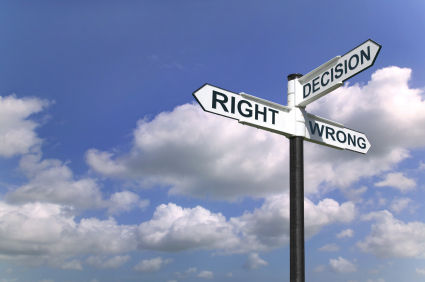 As many of you know, last week, hurricane Sandy hit the east coast with a vengeance. Thankfully, many forecasters gave us several days warning so that we could prepare, but I don't think any of us saw the full devastation that she would deliver. Here in New York, I am writing this as I am still without power eight days later. I'm sure you have heard all of the drama with the canceling of the New York City Marathon. At first, organizers decided to host the event and then after an outcry, they decided to cancel. While not on the same scale, the organizers of the marathon and I were having very similar conversations. This week, we are scheduled to host our PlannerTech event on Wednesday, November 7.
Ever since the hurricane, we have had many conversations about whether or not it was appropriate, or even possible, to host our event this week. In the end, we have made the decision to move forward with hosting this event. Today, I thought it would be helpful for me to share a behind-the-scenes look at what we considered before making this decision. I think it would be helpful for anyone else who might face a crisis situation and need to make a similar decision, but I would also love to hear from any of you who have experience with this. I'm sure we can all learn a lot from each other. Here are the three steps you need to take when assessing whether or not you should host or cancel an event.

Be Thoughtful About the Decision
When it all comes down to it, the decision about hosting or canceling an event falls on your shoulders. You have to weigh all of the factors and make a decision. Here are a few of the questions that we asked ourselves in evaluating this event. In no particular order,
What are the conditions like at the venue?
What is our communication with the venue in regards to their ability to host this event?
In terms of our partners (the people who are hosting this event with us) what is their status? How are they physically? Are they able to continue?
What is transportation like?
For our attendees, what are their physical situations like?
Who has invested money in this event that cannot be returned?
What are the losses to the community if we host the event?
What are the losses to the community if we don't host the event?
After reaching out to all of the participating companies and sponsors and partners, what is their sentiment about hosting the event? Are most of them still in? Or, do most of them feel they need to back out?
After touching base with several of the registered attendees, what is their sentiment about canceling or keeping the event?
What is the weather supposed to be like on the day of the event?
What is the chance that major transportation hubs will be back up and running by the day of the event?
These are only a few of the questions that we had to ask, but I think they were very important in our decision-making. As a planning team, we bounced around all of these thoughts and questions and decided to move forward with the event. I believe that these are some of the very questions that the planners behind the New York City Marathon also considered. The one thing that I think they underestimated was what the public's reaction would be when they decided to keep the event going. In my estimation (with limited knowledge), I think they probably did step one, but didn't put enough time into steps 2 and 3.
Be Thoughtful About Your Communication
As soon as we made our decision, it was really important to me that we do our best to communicate to everyone who was involved in the event. Sponsors, planners, stakeholders, attendees. I wanted to share with each of them a few key messages:
1.) That we understand the situation as it currently stands. We are going through this disaster too.
2.) That we decided to move forward and a bit of rationale as to why.
3.) An understanding that everyone's situation is different and expectations will be flexible for all attendees and participants. For example, if someone is unable to attend due to the circumstances, they will be refunded.
4.) We wanted to provide a way for people to participate, even remotely. For one or two of the companies who could no longer present, we offered them the opportunity to submit a video to present on their behalf. For attendees who could no longer make it, we leveraged our live streaming provided by P&V Enterprises and made sure we shared with people that they could watch the events remotely.
In all of these various communications, it was really important to me that we let people that there was a decision made. We weren't moving forward just because we didn't want to cancel the event. Instead, we weighed all of the factors and decided to move forward. I also really want people to understand that we are very much in the same situation here. Because this is a local event, we are without some of the basic resources that many others are facing as well.
I wanted people to know that the main reason we put this event together from day one was for education and bringing our community together. I still think that we can meet those two needs by hosting the event this week. Thankfully, most major transportation is back up and running, though slow, and our venue has been in a safe place ever since the storm hit. I think that many people are back to work today and will start to get back into the groove by midweek. Of course, these are all assumptions that I have made based on listening to the mayor and other experienced professionals, my own conjecture, and watching the recovery over the past few days. This is where step three really comes into play.
Be Thoughtful of Varying Perspectives
No matter what decision you make, there will always be a few people on either side of the issue who don't agree. In some cases, you need to listen to dissenting voices. You need to hear their situation, learn about why they are unhappy with the decision and do your best to make sure that you have weighed all of their considerations into your initial decision. This is where I think the New York City Marathon started to really feel the heat. I do believe that they asked themselves a myriad of questions – including whether or not it would be diverting emergency personnel and whether things could really be canceled. I believe that they knew that people had traveled from all over the world to be at this event, and they felt a certain obligation to those attendees.
I do think that they failed in communicating their thought process to the general public. But either way, when dissention started, I think it was important that they listened to the people of Staten Island and all around the city. They heard some of the challenges that people were feeling and I think they genuinely decided that they could not overcome the stigma that would be associated with this event if they went ahead.
For our event, we are lucky to have such a supporting community and we really haven't heard many people who are upset about our decision to carry on the event. That being said, I know that there are people who are likely to pop up over the course of the next few days. I welcome their feedback. I want to hear why they think we should cancel and I want to make sure that we have considered all of the aspects.
If we have considered everything that people are bringing up, I think we need to stick to our guns. We need to understand that every decision is going to have some people who do not agree. If we can justify our decision, not only for ourselves, but for our community, then we need to move forward and handle each person who disagrees with as much care and concern as we can. You can't make a decision and expect that everyone is going to agree. This is the case in business, life decisions and with canceling an event. As planners, the best thing I think we can do is to weigh all of the possible aspects and to make the best decision that we can based on the information that we have.
It's been interesting reliving this whole process with all of you on the blog here. Some of these conversations happen so quickly that I don't think we even realized that we were following these three steps. I really only wrote the steps up afterwards, based on our experience. If you have been through similar events, or have thoughts about how you would handle this, I would love to hear in the comments. I think that these opportunities are priceless for us as a community to gather our feedback and collectively create best practices!
As for our event on Wednesday night, I hope we made the right decision. I think we have gone through all the necessary steps to ensure that it's going to be a great event and I think you will agree! Please, join us remotely or in person on Wednesday night. I'd love to have all of you readers involved in some way!
Register at www.plannertech2012.eventbrite.com
Also, because of the storm, I am offering free tickets to the event. All you need to do is register using promo code LKECOMP and you will be able to buy a ticket to the live event for free! Our goal is really to support the community of planners – to bring everyone together in a way that allows us to learn, network, and do a better job for our client! Please join us!
Related articles
Related posts: